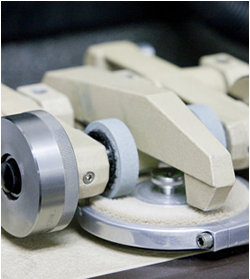 With determination, innovation, and world class quality, Lyle Industries, Inc. is a premier supplier of automotive textile carpet for molded flooring, interior trim, and floor mats.
Located in Dalton, Georgia, Lyle Industries uses a variety of yarn systems, substrate fabrics, coating applications, and innovative manufacturing techniques to supply carpet used in many of today's automobiles.
Area News
Monday, October 17, 2016 08:00 AM

The newest member of the crime-fighting team at the Whitfield County Sheriff's Office has

Wednesday, October 12, 2016 12:46 AM

To reach us Fare Exchange is a longtime meeting place for people who love to cook and love to eat. ...

Wednesday, October 05, 2016 12:04 AM

The Dalton Education Foundation joins in on the festivities again this year by hosting the Paint the Town Red Community ...

Friday, September 30, 2016 12:08 AM

From the jade jewelry she collected in China to the postcards she collected in London, Paris, Rome and other European ...